Media Events Kick Off Waikiki Steel Guitar Week
Two media events were televised on Honolulu television stations to publicize the 2nd Annual Waikiki Steel Guitar Week. The events were arranged through the Royal Hawaiian Center's media relations consultant.
The first event was televised on Friday, July 6, 2018, on Hawaii News Now. Two different segments featured on-air performances with Next Generation steel guitarists Malie Lyman and Pono Fernandez, accompanied by Alan Akaka, Larry Holu, and Addison Ching performing "Hanalei Moon" and "Hene Jam" - a kanikapila-style steel guitar duel of "Henehene Kou Aka" between the Next Generation steel guitarists. Although no on-air interview was conducted, HNN Sunrise personalities Grace Lee and Steve Uyehara provided complete event descriptions to viewers.
Performance at Hawaii News Now Sunrise. PC-Don Touchi.
Performance at KHON2's Wake Up 2day. PC-Don Touchi.
The second event was televised on Monday, July 9, 2018, on KHON2's Wake Up 2day and Wake Up 2day - Take 2 programs. The first featured a live interview with Wake Up 2day news anchor Ross Shimabuku and HIMELE chairman Alan Akaka and several on-air performance segments. In addition to the songs performed at Hawaii News Now, Malie Lyman also led the group with her version of "'Alika."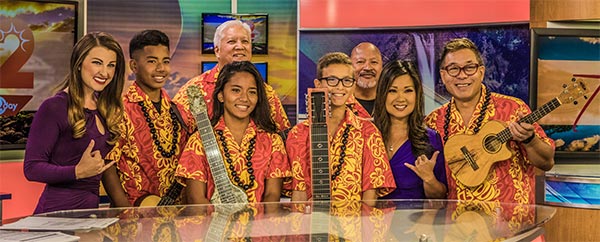 Group shot with Take2's Kelly Simek and Kristine Uyeno. PC-Don Touchi.
The media events publicized the 2018 Waikiki Steel Guitar Week that kicked off on July 9, 2018, at the Royal Grove Stage of the Royal Hawaiian Center in Waikiki, O'ahu. The weeklong event features nightly steel guitar entertainment on Monday through Thursday, and a full ho'olaule'a program on Friday and Saturday evenings with five different steel guitar artists performing each night. The Friday and Saturday programs will be dedicated to the memory of Eddie Palama, veteran steel guitarist who recently passed away. Palama was a participant in previous years' Waikiki Steel Guitar Festival and other steel guitar festivals statewide.