Steel Guitar Performances: Rock You Like A Hurricane
Beautiful Hawai'i weather greeted the 2nd annual Hawai'i Island Steel Guitar Festival. The event, sandwiched between Hurricane Lane and Hurricane-turned-Tropical Storm Olivia, was enjoyed by several hundred admirers of the Hawaiian steel guitar at the Mauna Lani Bay Hotel and Bungalows on the Kohala Coast outside of Kona. Hawai'i County Mayor Harry Kim memorialized the event by proclaiming September 7-9, 2018, as Hawai'i Island Steel Guitar Appreciation Days.
The 2½ day event included workshops, a vintage steel guitar exhibit, open stage performances, and Friday and Saturday evening programs featuring eleven Hawaiian steel guitarists and steel guitar groups. Public kanikapila jam sessions followed each evening program. This year's event was consolidated into one general area of the hotel. All musical performances were held indoors in the hotel's ballroom, which also included the steel guitar exhibit and festival merchandise sales tables. Saturday workshops were held in an adjacent meeting room.
The main evening programs featured performances by Alan Akaka and The Islanders, the Bobby Ingano Trio, Greg Sardinha, Geronimo "Geri" Valdriz, and Hawai'i Island artists Pomai Brown and Konabob Stoffer and the Hana Aloha Trio. Also appearing were Dave "DK" Kolars from DeKalb, Illinois, and Japanese artist Masami Sato with her group and with the all-female Hawaiian band Makana. The evening program also included performances by Ke Kula Mele Next Generation steel guitarists and Alexis Tolentino. The Saturday evening program finished with an all-star jam session featuring many of the evening performers.
All-star jam session with featured steel guitar players and musicians. Photo by Eliza Demmi.
The hotel presented a Hawaiian cultural exhibit and crafts demonstrations in the Mauna Lani Lanai area outside of the ballroom on Saturday morning. Various experts were on hand to demonstrate lei making techniques including Lei Hulu and Lei Papale.
Some of the cultural exhibit items. Photo by Don Touchi.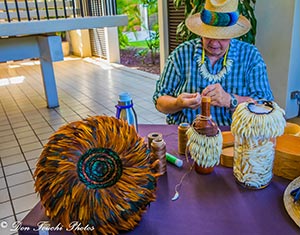 Demonstration of lei-making technique. Photo by Don Touchi.
Select festival musicians also presented entertainment for the hotels Sunday breakfast buffet. The 2-hour program featured steel guitar performances by Bobby Ingano, Alan Akaka, Dave "DK" Kolars, and the Next Generation steel guitarists and musicians. Greg Sardinha, Adam Asing, Kaipo Asing, and Danny Akaka, Jr., also joined in.
Hawai'i County Mayoral Proclamation
A few of the Sunday etertainment musicians. Photo by Eliza Demmi.
While normally held in November, this year's festival was scheduled ahead of time to accommodate a hotel renovation project that is scheduled to begin on October 1, 2018 and last for about 14 months. During this period the hotel will close and undergo a $100 million upgrade and enhancement.
The 2019 festival is scheduled for December 6-8, 2019, to allow for completion of the hotel's renovation project and to help launch the re-opening of the hotel which will be rebranded as the Mauna Lani, Auberge Resorts Collection.
Additional festival photos will be published on the festival's website 2018 photo gallery.