The Clinesmith Frypan: New Steel In Town
There's a new steel in town. Venerable citizens of Steeltown may think that this newbie might resemble someone they once knew a long time ago. For those sensing a feeling of Deja Vu they wouldn't be mistaken.
Meet Clinesmith Instruments' Frypan Steel Guitars. In development since February of 2018, the Frypan has now been perfected and ready for anxiously awaiting steel players to experience its characteristic touch and tone.
I conducted a virtual interview with Todd Clinesmith to learn more about this new steel guitar and to find out about the genesis of this instrument.
AC: What inspired you to design and manufacture a frypan steel guitar?
TC: I have always loved the Frypan design and tone. I have been making lap and console steels out of cast aluminum for about 13 years now, so the idea of making a frypan has been in the back of my mind for a long time. But the idea to finally make it happen started with making the horseshoe pickup first.
I always loved this pickup design and like many other folks, I feel it is one of the best steel guitar pickups ever made. I worked on horseshoe pickup designs for years, and made some excellent versions. But the magnets were not quite as strong as the originals. After a lot of time and R&D over several years I came up with a horseshoe that had a similar magnetic structure as the original (actually a bit stronger). Once I had made a pickup that performed as well as the vintage pickups, I had to make the perfect home for it: A Frypan. I got to work on an 8 string Long Scale Frypan pattern for my Aluminum foundry. Since then, due to requests, I have made patterns for a long scale 6 string and a short scale 8 string model. I am just starting to send out 6 string frypans, and waiting for my first castings of the 8 string short scale now.
AC: Have any features transferred from your other lap steel guitars? What features are new?
TC: I have not transferred much design over from my other models to the frypan, as I kept the design and construction of these as traditional as possible although these do have a solid neck which does increase sustain, and solidifies the tone. I tried keeping the top and back as light as possible to capture the beautiful aluminum tonal response.
AC: What construction details can you provide?
TC: These are Cast Aluminum as opposed to machined billet Aluminum, which tonally is far superior. It has a grain and structure that is unique to itself such as wood has. The long scale instruments are about 24 11/16 scale length and the short scales are about 22 9/16 scale length.
AC: Can you describe the guitar's pickup and electronics?
TC: The pickup contains real horseshoe magnets which are stronger than the vintage units. I wind the pickups with the old style gauge wire. To my ears, this produces a rounder and fatter tone than modern wound pickups.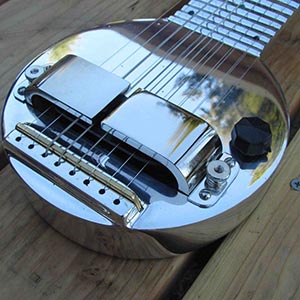 AC: Are any accessories included?
TC: These come with a quality custom soft shell case from Blue Heron Cases out of Carlotta California.
AC: What is the lead time from order to delivery?
TC: The lead time varies from about 8 - 16 weeks. Right now I am closer to the 16 week time frame with the new long scale 6 and short scale 8 models coming out.
According to additional information from Todd: Unique to this design are volume/tone control configurations, available either with or without tone, separate volume and tone controls, or a single concentric (stacked) potentiometer with both volume and tone. For the 6-string Frypans, string spacing at the bridge is 2.1" and 1.875" at the nut. The string spacing of the 8-string Frypans is 2.75" at the bridge and 2.375" at the nut. The 6-string Frypan weighs in at 7.2 lbs., and the 8-string Frypan at 8.6 lbs. The surface of the steel is polished to a high sheen.
7-string Frypans are not available at this time.
Ethan Goore, a new owner of an 8-string Clinesmith Frypan and a NextGen steel guitarist with the Ke Kula Mele Hawai'i School of Hawaiian Music, offers these comments:
"The default string separation is perfect for me and is very comfortable. Some people may have trouble with seeing the fret lines as there are no actual lines but I have no issue with this. Harmonics are easy to find and sound great. Long scale option is perfect size for me and I would encourage people to get a long scale.
""[The instrument] stays in tune for a long time. Tuning pegs are comfortable to turn and turn smoothly. Lower strings need tuning every few days but higher strings can go for over a week. At around 9 pounds it is decently heavy but not too heavy. The soft case it comes with is lightweight and very durable. It is by a company called Blue Heron. [The case has] very durable zippers, no open seams and plenty of padding. I have taken it on many plane rides in the overhead bin and have had no issues. [The] high gloss finish looks great but can reflect the sun in my eyes during midday, outdoor performances. [The] design looks exactly like the original frypans and even fooled uncle Alan [Akaka]!
""[The] pickup is the most amazing part of the instrument. It is incredibly strong and sounds just like the original Rickenbacher frypan pickups. It is also an actual horseshoe. I have separate volume and tone knobs, which I think is perfect. I can do volume swells and I can get the sweet tone from the tone knob. The tone knob is essential to get that sweet tone due to the strength and brightness of the pickup. The knobs do not get in my way during normal playing and during palm muting, which is great."
Ethan concludes, "Overall, the instrument sounds fantastic and I think that its sound rivals that of the actual frypans. It is well worth its price and has seemingly endless sustain."
Offering some critical comments, Ethan relates that "The high gloss finish can reflect sun into my eyes during midday outdoor performances but that is not common. Some people have told me that it is hard for them to see the fret lines but I have no problem with this. The weight can make it a bit annoying to lug around but the tone and sustain from its solid body are worth the weight."
For further information on this instrument or to place an order, contact Todd Clinesmith directly at toddclinesmith@yahoo.com.
Feature