The 2023 Kaua'i Steel Guitar Festival
The 2023 Kaua'i Steel Guitar Festival on May 5 and 6 at Kaua'i's Sheraton Kauai Coconut Beach Resort marked the return of a "complete" festival including all aspects of outer island festivals. In addition to Open Stage performances, Ho'olaule'a Concerts with seven featured steel guitarists and five NextGen steel guitarists, a Steel Guitar Exhibit, a workshop, and evening Kanikapila for festival guests, the festival included the return of school visits to area schools.
School visitations had been paused due to the pandemic and were not resumed until area schools were ready and prepared to host in-person presentations by festival musicians.
Teams of festival musicians including featured steel guitarists and NextGen steel guitarists visited four area schools to present information about the history and culture of the steel guitar, offer musical performances, and let students try out the guitars under the supervision of festival musicians.
Daniel Tremblay visited Island School in Līhu'e.
Bobby Ingano and his team, comprising Kaipo Asing, Larry Holu, and Makamae Lyu-Napoleon, visited Kalāheo Elementary School.
Greg Sardinha and his team, including Joseph Zayac, Nate Goore, and Isabella Bertelmann, visited Kapa'a Middle School.

Isabella Bertelmann demonstrates the Hawaiian steel guitar to Kapa'a Middle School students. pc-Sandy Sardinha
Alan Akaka, with Shane Lyman and Malie Lyman, visited Ke Kula Ni'ihau o Kekaha, a Hawaiian language immersion school.
Daniel Tremblay, who has perfected a system of converting inexpensive guitars into Hawaiian Steel Guitars, donated four converted guitars. One guitar was given to each of the visited schools.
Saturday's concert at the Sheraton Kauai Coconut Beach Resort, was presented in two segments with an hour intermission between segments and was livestreamed on the Hawaiian Steel Guitar Showcase's Facebook Page and YouTube Channel.
The 2023 festival also marked the expansion of the festival to a second venue. An abbreviated festival featuring performances of six featured steel guitarists was presented at Lihue's Kukui Grove Center on Sunday, May 7. One of the featured steel guitarists was unable to participate at this festival due to a scheduling conflict.
Although no prior announcement was made, Sunday's festival was also livestreamed by one of HIMELE's livestream providers, Hawaii Tech Services LLC. Chris Febo and La'akea Kamakawiwo'ole previously provided livestreaming services for the Hawaiian Steel Guitar Experience at Mauna Lani and the Kona Steel Guitar Festival.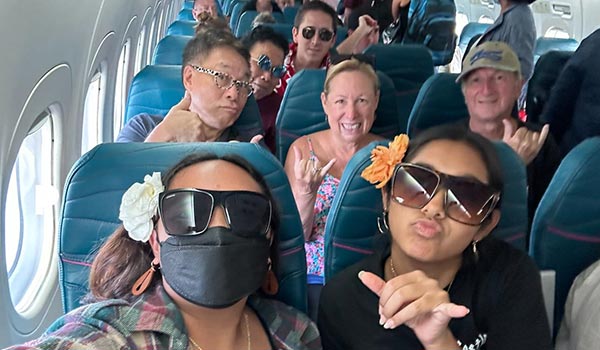 Hele on to Kaua'i: Front-NextGen Makamae Lyu-Napoleon and Isabella Bertelmann;
Midddle-Alan Akaka, Linda Mentzer and Daniel Tremblay; Rear-Bobby Ingano and Joseph Zayac. pc-Alan Akaka
KSGF